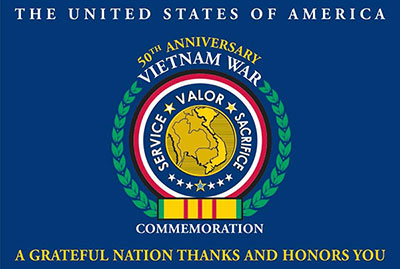 Presented by Senator Browne
May 10, 2018
11 a.m.
Soldiers Grove
The State Capitol, Harrisburg – (rain location will be the Keystone Building Atrium)
Senator Pat Browne will recognize and honor the Vietnam Veterans of the 16th Senatorial District for their service and sacrifice on behalf of the United States, with a special Commemorative Ceremony.
Special Note: This ceremony is taking place on the Capitol Grounds due to the presence of The Wall That Heals, the replica of the Vietnam Veterans Memorial in Washington D.C. and the Mobile Education Center. The General Assembly is hosting The Wall That Heals in Harrisburg, Wednesday, May 9 – Sunday, May 13, 2018. You are invited to participate in the ceremony and visit the Exhibition before or after the event.
In Accordance With Public Law 110-181 SEC.598; the 2008 National Defense Authorization Act authorized the Secretary of Defense to conduct a program to commemorate the 50th anniversary of the Vietnam War and "in conducting the commemorative program, the Secretary shall coordinate, support, and facilitate other programs and activities of the Federal Government, State and local governments, and other persons and organizations in commemoration of the Vietnam War." A special Vietnam Veterans' lapel pin has been produced as part of the commemorative program and will be distributed to attending veterans.
In order to attend this event and to be eligible to receive the commemorative pin, the recipient must be a United States Veteran who served on active duty in the United States Armed Forces at any time during the period of November 01, 1955 to May 15, 1975, regardless of stationing location. To fully accommodate all who wish to attend, and ensure a sufficient quantity of the commemorative pins, we ask that you register for the event by using the form below. Questions regarding the event may be directed to Senator Browne's office at 610-821-8468.
For additional information regarding the National Events to commemorate the Vietnam War, please visit http://www.vietnamwar50th.com.
If you would like to request information related to the valuable state benefits, programs and services offered by the Pennsylvania Department of Military and Veterans Affairs, please visit https://register.dmva.pa.gov/.
Please fill out the registration form below. Deadline for registration is May 3, 2018.