In this Update:
Remembering a Hero, Detective James Stanko
Supporting Lehigh Valley Health Network's ICU and NICU
Senate Passes Package to Strengthen Cybersecurity, Protect Victims of Data Breaches
Federal Government Launches Website to Provide Home COVID Tests
Transition to 5G Service Will Cause 3G Cell Phones to Stop Operating in 2022
Tax Form Arriving Soon for Pennsylvanians Who Claimed Unemployment Benefits in 2021
Applications Being Accepted for PennDOT Summer Employment Program
---
Remembering a Hero, Detective James Stanko
I am incredibly saddened to learn of the passing of the Allentown Police Department's Detective James Stanko.
The impact Detective Stanko had on the people he met cannot be overstated. His overwhelming focus was to better connect the city's police with the community and help improve the lives of those they serve. He did this through a friendly, positive and caring attitude, which he spread throughout the city.
I had the pleasure of getting to know Detective Stanko through his tremendous work in the city and as a regular participant in the events I hosted in the Allentown area. Whether it was my Family and Community Expo at Bucky Boyle Park, or my annual Kids Discovery Day at the Da Vinci Science Center, Stanko was always on hand to connect with families and offer life lessons to kids.
Stanko routinely visited the Children's Clinic at Lehigh Valley Health Network, took part in a variety of charity events, and helped to organize the Summer Youth Police Academy and annual Unity Game between the Allentown Police Department and Dieruff High School boys' basketball team. He was a strong advocate for community policing and participated in a wide range of youth athletic programs designed to positively connect the department with city neighborhoods.
My prayers and condolences go out to his family. He will always be remembered by the people he touched, the community he cared for, and the city he loved.
Check out some of the incredible work Detective Stanko preformed with the Allentown Police Department HERE.
Supporting Lehigh Valley Hospital's ICU and NICU
The Lehigh Valley is home to a world class healthcare system, helping to ensure a high level of quality healthcare options.
I was pleased to work with my local colleagues to help secure $4.5 million for capacity expansion of Lehigh Valley Health Network's Neonatal Intensive Care Unit (NICU) at Lehigh Valley Reilly Children's Hospital and the Intensive Care Unit (ICU) at Lehigh Valley Hospital (LVH)–Muhlenberg
Lehigh Valley Reilly Children's Hospital will receive $3.5 million to expand its current 32-bed NICU, which is located at LVH–Cedar Crest. When the project is complete, the facility will have 46-50 Level IV NICU beds and special procedure rooms. Expert neonatologists and nurses in the NICU provide care to the most vulnerable babies and ensure that each family and baby receive the highest level of care and support.
LVH–Muhlenberg will receive $1 million to add eight new ICU beds adjacent to its current ICU, bringing the total to 28 beds. In September, LVH–Muhlenberg began operating as a Level II trauma center. The additional ICU beds will help get patients from the emergency department to a critical care bed faster, helping to improve medical outcomes.
I am proud to have worked with Lisa Boscola (18th District) and Representatives Ryan Mackenzie (134th District) and Jeanne McNeill (133rd District) to secure these grants and ensure our hospitals have the adequate resources to provide a high level of care to our region.
Senate Passes Package to Strengthen Cybersecurity, Protect Victims of Data Breaches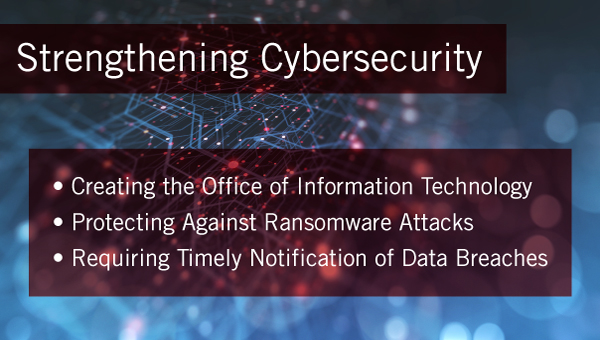 The Senate approved a package of bills this week to improve cybersecurity in Pennsylvania and require timely notifications to citizens of government data breaches. The bills were sent to the House of Representatives for consideration.
Senate Bill 482 consolidates administration and management of the Commonwealth's information technology operations under a new Office of Information Technology.
The measure would replace the current, uncoordinated approach that led to cases of costly mismanagement, including delayed implementation of a statewide police radio system and bungled upgrades to Unemployment Compensation Call Centers. Other problems included data breaches experienced by the departments of Human Services, Corrections, and Education, which exposed the names and personal information of thousands of individuals, including citizens and state employees.
Senate Bill 726 ensures Commonwealth agencies have strong safeguards in place to discourage, combat and recover from ransomware attacks.
Ransomware is a type of malicious software designed to block access to a computer system until money is paid. Senate Bill 726 would set state penalties for the possession, use, or threatened use of ransomware and prohibit state agencies from paying ransom.
When data breaches do occur, Senate Bill 696 would require state and local governments to notify potential victims within seven days. The requirement applies to any state agency, county, school district, municipality or third-party vendor experiencing a breach.
Federal Government Launches Website to Provide Home COVID Tests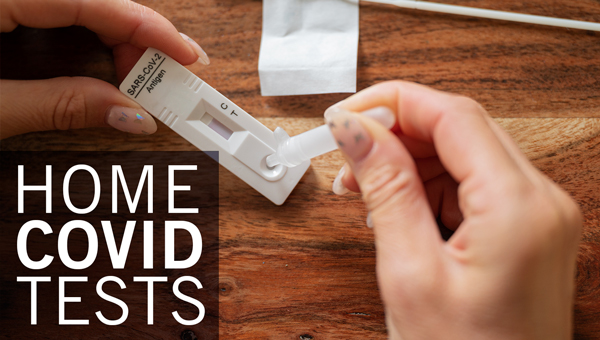 The federal government has launched a website to order at-home rapid COVID-19 testing kits.
Each household is eligible to order four tests. According to the website, orders will usually ship in 7-12 days and there is no cost.
These are rapid antigen at-home tests, also referred to as self-tests or over the counter (OTC) tests. They produce results within 30 minutes and no lab drop-off is required.
To place an order, provide your name and residential address. You don't have to provide ID, credit card or health insurance information. You can find answers to frequently asked questions here.
Transition to 5G Service Will Cause 3G Cell Phones to Stop Operating in 2022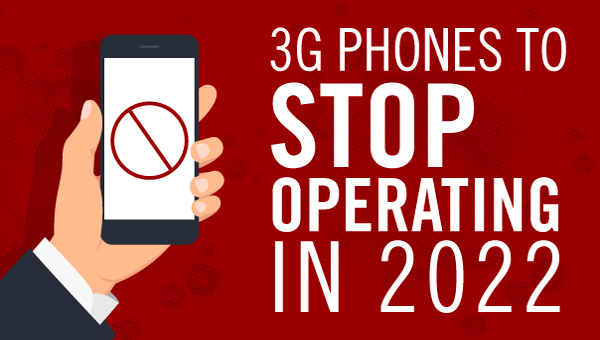 Residents with older cell phones are being urged by the Pennsylvania Emergency Management Agency and Pennsylvania State Police to prepare for the phase-out of 3G cellular networks and service, which could come as early as next month.
If your mobile phone is more than a few years old, you may need to upgrade your device before your provider shuts down its 3G network and you lose service – including the ability to call 911. You should contact your cellular service provider to determine if your devices are compliant to ensure you don't lose connectivity.
The nation's three major wireless carriers (AT&T, Verizon and T-Mobile) have announced plans to shut down their 3G networks to accommodate more advanced services, including 5G, as early as February. That will cause many older phones to be unable to make or receive calls and text messages or use data services. It could also affect other devices that rely on 3G connectivity, such as medical alert devices, tablets, smart watches, home security systems, and in-vehicle safety, security and roadside assistance systems.
Low-income individuals concerned their 911-only phones will no longer be supported can apply for service through the Federal Communications Commission's Lifeline program.
Tax Form Arriving Soon for Pennsylvanians Who Claimed Unemployment Benefits in 2021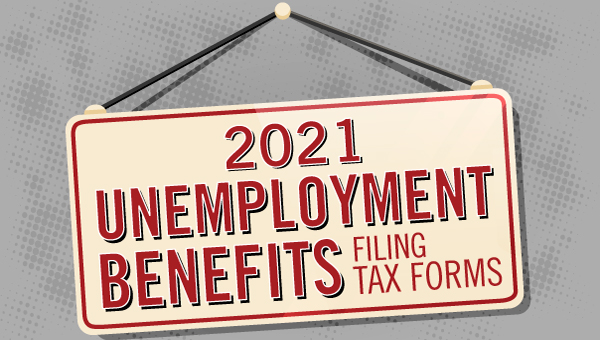 According to the Department of Labor and Industry, 1099 tax forms will be mailed no later than Jan. 31 to Pennsylvanians who claimed unemployment benefits in 2021 and need the form to file their federal income taxes.
Claimants of all unemployment programs offered during 2021 will receive a 1099 tax form detailing their benefit payments. This form will be available online soon and viewable in the same system where claimants file their weekly claims. All claimants also have the option to view 1099 tax forms from previous years, if applicable.
The receipt of a 1099 form by a person who didn't file for unemployment may indicate a case of identity fraud. If someone who didn't file for unemployment receives what looks to be a 1099 tax form in the mail, they should report this suspected fraud immediately so the department can correct their income with the IRS and prevent any issues with the victim's taxes.
Applications Being Accepted for PennDOT Summer Employment Program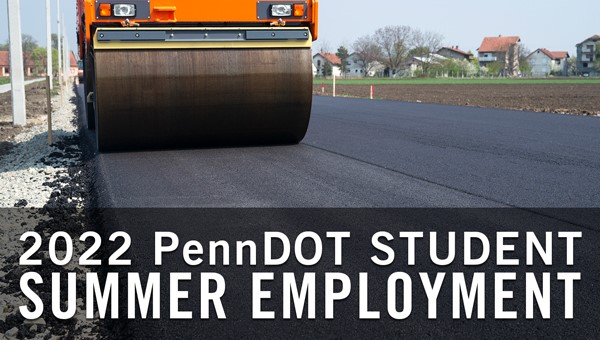 The Pennsylvania Department of Transportation (PennDOT) offers a summer employment program for students who are registered as full-time college students for the Fall 2022 semester.
The deadline for receiving summer applications is Feb. 18, so I encourage anyone interested in the program to contact my office.
In addition to contacting my office, those interested must also fill out an online application with the PennDOT College Student Summer Worker posting under the open summer jobs section of the website.
The hourly rate is $14.61. Applicants must be enrolled as a full-time college student for the Fall 2022 semester, have a valid PA driver's license and be 18 years of age before beginning work.